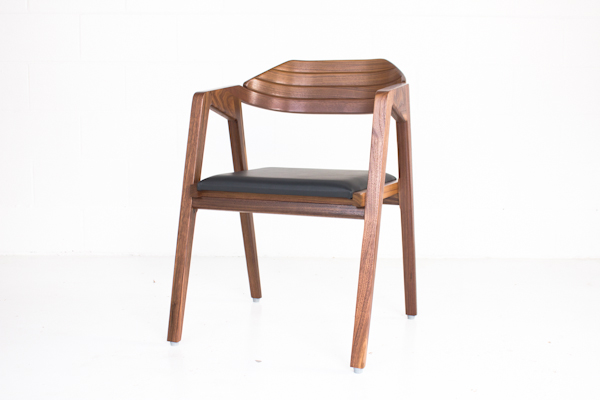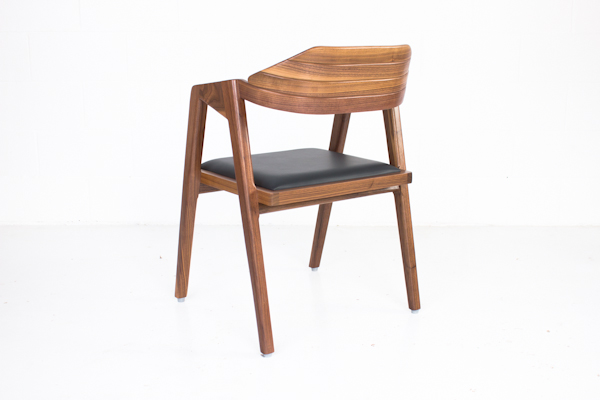 "Sleek, sculptural and simple, with enough elegance to please a more traditional eye."
— Western Living Magazine
The S2 Dining Chair was designed and produced for the Government of Canada for Canadian embassies in London, England and Brussels, Belgium.
Precision is what separates this chair from any other. Restrained in design and exact in its bend, measurement, proportion, and angle, the focal point of this piece is its curved textured back. Constructed of solid, sustainably-harvested walnut or oak with a catalyzed lacquer finish, and serafini leather sourced from Italy. The S2 Dining Chair becomes an extension of the space in which it lives, and is a piece made to last more than just a lifetime.
Pricing starts at $2,595.
The S3 Lounge Chair was designed and produced for the Government of Canada for Canadian embassy in Brussels, Belgium..
A sculptural and modern design with a timeless appeal, our S3 Lounge Chair finds its power though subtle details. Meticulously handcrafted, each chair is precisely engineered to highlight its unique wrap-around solid walnut or white oak frame and flawless joinery. The result is ultimately one clean, uninterrupted line. With solid brass arm inlays and a solid brass rod back support, the S3's profile is light and airy from any angle, making this piece a quiet focal point in any space.
Pricing starts at $4,595.
"Constructed exclusively from North American hardwoods such as walnut and white oak, sanded to such a silky finish that the objects seem to oscillate in space. Articulated with flourishes of brass, every object has a resonance."
— MONTECRISTO magazine
Every component is celebrated and no detail is left unnoticed in our L1 Floor Lamp. Serving as the focal point, the solid brass rod is illuminated by a row of warm LEDs, creating a deceptively simple yet magical visual effect as the light reflects on the brass surface. The end result is a sculptural light form, shaped by the bare essentials for a minimal and cinematic result.
A collection of custom stools and tables designed for Tight Club in Vancouver, BC. The stools are made from a combination of silver leather upholstery with a vegetable-tanned leather saddle and a white powder coated steel base.
There are three key elements to our L3 Sconce. The focal point is the colourful textures of layered art glass. Brought to life by warm LEDs and effortlessly resting in a bleached maple 'U' form, the glass panels are held securely in place with no need for fasteners. Nesting in a powder coated, spun aluminum shade, which both captures and casts a gentle light into a space, this deceptively simple sconce is both playful and expressive.
T5 COFFEE/SIDE TABLE SERIES
An occasional table design that is minimal and modern yet familiar enough for more traditional settings, our T5 Coffee/Side Table Series finds a delicate balance between form and function. Serving as a temporary place for all the usual trappings found in a modern home — knick-knacks, coasters, remote controls, magazines, candy, etc. — the T5 embraces the challenge. Floating along a solid brass rail track below a thick glass tabletop, the delicately-carved storage trays are integrated into the design of the table, rather than hidden in a bulky drawer or flat plane. Limitless in design, each tray is customizable and modular, moving freely between the tables or easily removed to be used as serving trays on the tabletop.
An original approach to the storage dilemma of the modern, minimal lifestyle, all unnecessary elements are stripped away from this design, leaving only a simple, sturdy and modern form.
A collection of custom carved trays made for a new sake flight program by Kuma, a Japanese restaurant in Tofino, BC. The minimal design is intended to highlight the three Sake glasses, with the emphasis on the inner portion of the glass. Kuma=Bear in Japanese so we laser etched their bear logo in the sake holders and painted them white to create a revealed experience as each glass is lifted. Finished in mixed materials, half are eastern maple, and half are ebonized oak.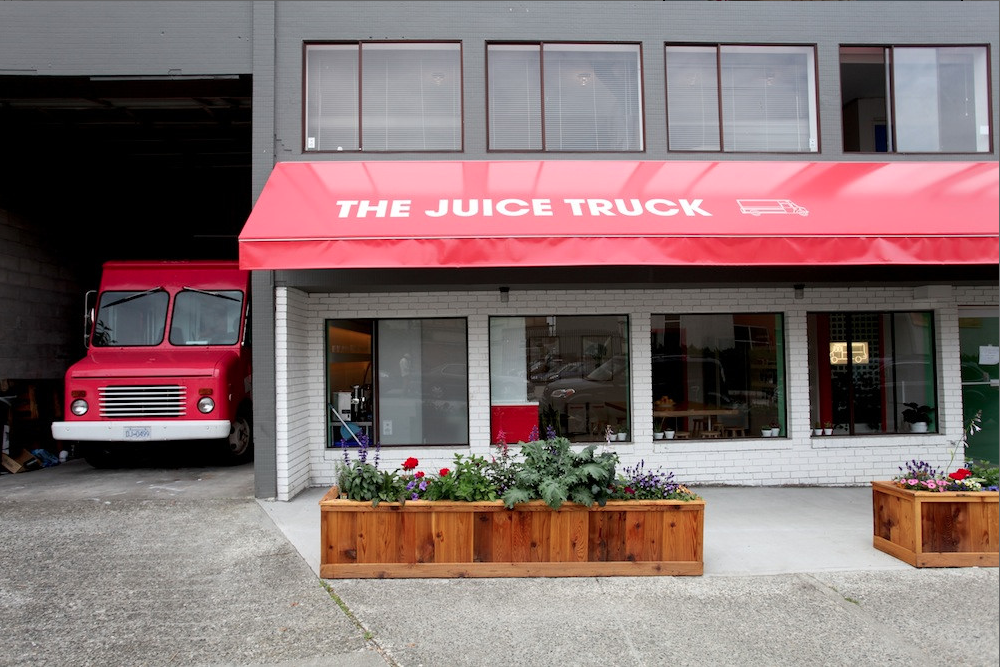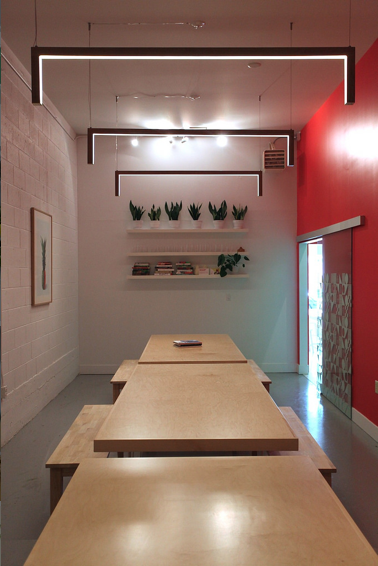 A sculptural, floating light-form meant to create a cinematic aura in a modern space, the L2 Pendant Light is a subtly powerful light source ideal for any space. Diffused by frosted panels, warm dimmable LEDs are inset within a solid walnut or white oak frame, resulting in a vibrant directional light. Using only high-quality stainless steel mounting hardware, each pendant is fully adjustable to allow the form to be suspended at any length from 1' to 8′. Each end of the frame is adorned with a sturdy solid brass cap, making the piece an object to be admired from all perspectives. A simple and unique approach to ambient lighting, the L2 is especially suited to dining areas, work spaces and retail spaces.
Collaborating with Glasfurd & Walker, Gamla designed and manufactured a series of L2 Pendants for the Juice Truck's first retail location in Vancouver, BC. The sculptural floating light forms are hung in a linear row, growing in length toward the end of the space.
ODBLOCKS are truly odd blocks. Made from several one-of-a-kind shapes that uniquely join together, Odblocking comes with no rules — stack 'em, jig 'em together, or keep them on your bookshelf or mantel for display. All blocks are meticulously handcrafted from solid walnut off-cuts and finished with all natural, food-safe oils, making ODBLOCKS fun, safe and sustainable, too!
A toy for your favourite kid or a sculptural piece for your home, each set includes 9 blocks, a stamped canvas bag, and box marking your edition and block set number.
POP UP WEDDING PROJECT FIXTURES
Collaborating with All & Sundry on their unique Pop Up Wedding Project, Gamla provided fixtures and gifts for the action packed one day event that saw 10 couples married in one small space. Our Live Edge All Purpose Table was the centerpiece for the event, with all catering and presentations taking place around it. Our solid walnut and brass serving trays were also selected as gifts for each of the lucky couples.
T4 All PURPOSE DINING TABLE SERIES
Designed for modern life in an urban centre, our T4 All Purpose Table is meant to be a gathering point in the home, a place to eat, work and entertain. Meticulously handcrafted from sustainably harvested black walnut and ash hardwood, featuring a mixed hardwood trap door for routing all electronic cables, this table keeps your workspace tidy and organised. The sculptural tripod legs are uniquely designed to be minimal in appearance while remaining strong and secure, making the T4 a desirable table for any modern space.
Spread out for work during the day, clear it off and have dinner or drinks, and when not in use, the T4 Dining Table is a modern, beautiful centrepiece in your home.
One clean line leads to another. Every angle, every profile, perfectly shaped and proportioned for both style and ergonomics. The S4 Dining Chair is a sturdy, minimal design with the structure treated as a whole system — each component seamlessly flows with no unnecessary flourishes. This precision forces nothing short of meticulous craftsmanship and detailing that will inevitably last a lifetime. Made of solid sustainably-harvested walnut with optional solid brass inlays, this modernist chair is both functional and minimal, making for a piece that will evolve in any home.
Working closely with Bodega Ridge Resort on Galiano Island, BC, Gamla created a series of reclaimed douglas fir tables to host the wide range of events that take place at the resort - from yoga retreats and weddings to daily guests. The wood was sourced from an old decommissioned mill underneath the Knight Street bridge in Vancouver and we crafted matching serving trays from all the offcuts, ensuring none of this beautiful lumber was wasted.
The minimal design of our O1 floating shelf allows it to seemingly float securely on a wall, making for an unobtrusive piece that is at once sleek and functional while remaining elegant enough for the most classic eye. Using only the finest of materials, this space-saving beauty is made from sustainably harvested walnut or white oak hardwood with solid brass rod supports, featuring innovative joinery techniques that minimize all unnecessary bulk from the design. Limitless in design, the O1 shelf can be customized with a number of different modules and sizing.
Cutting BLOCKS / SERVING TRAYS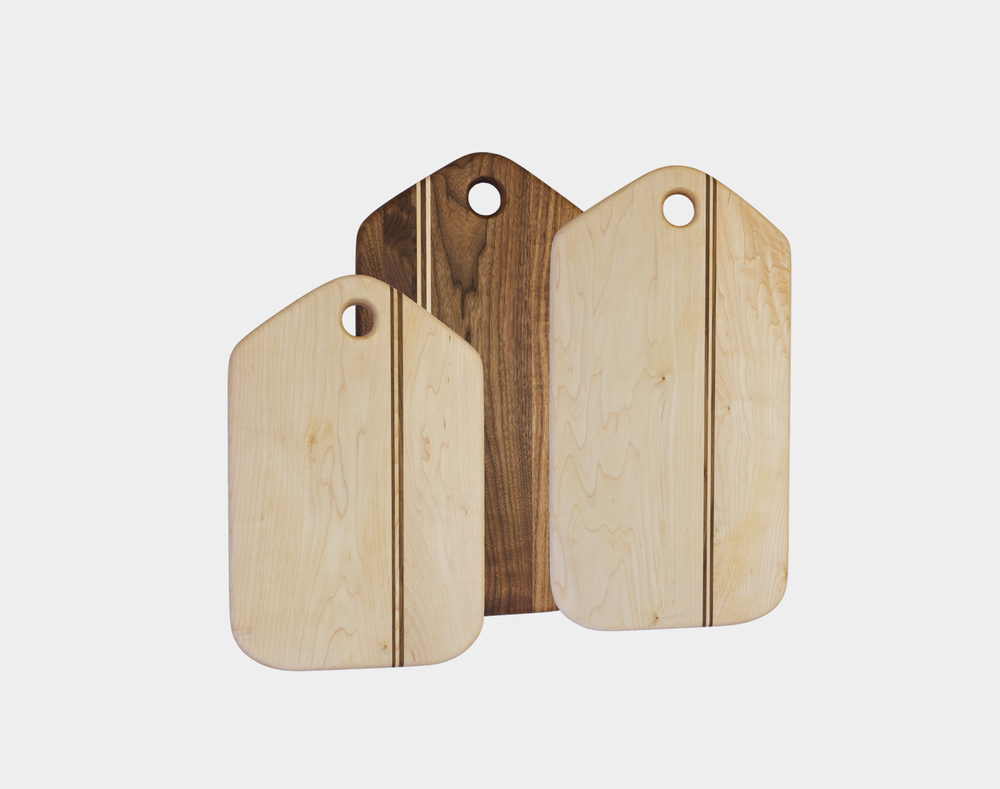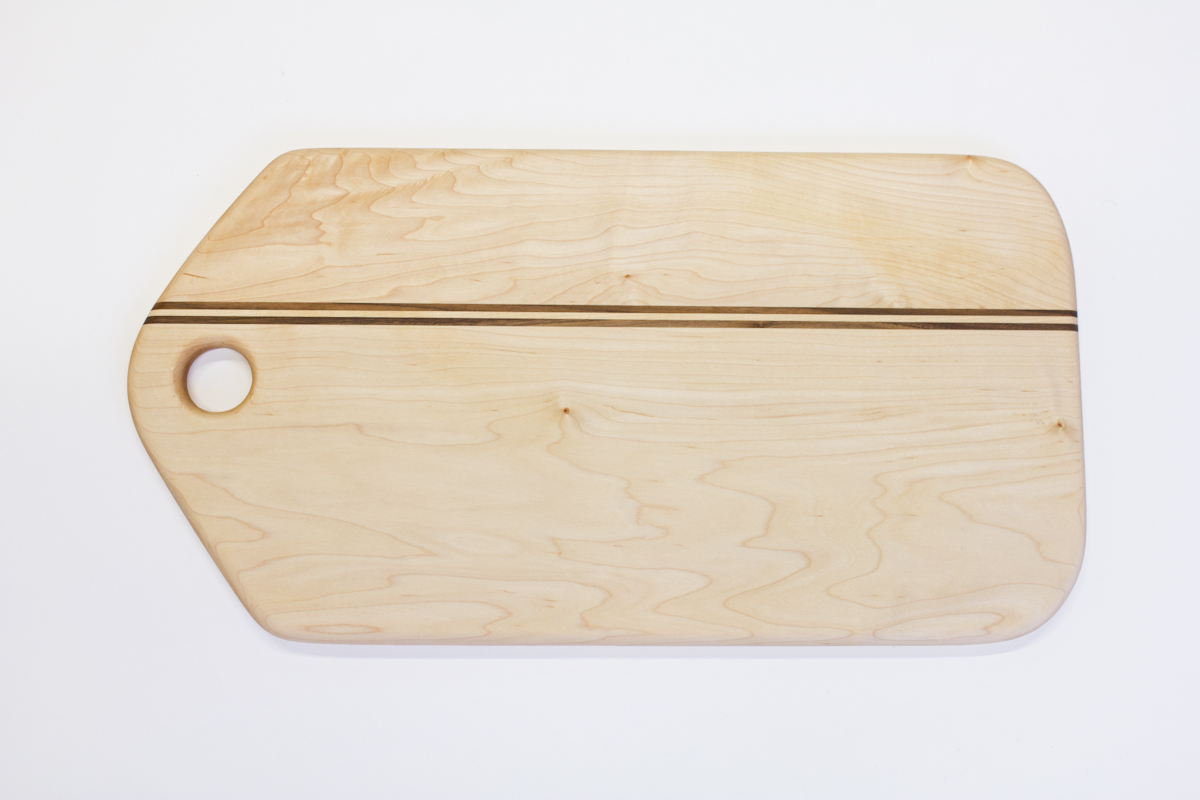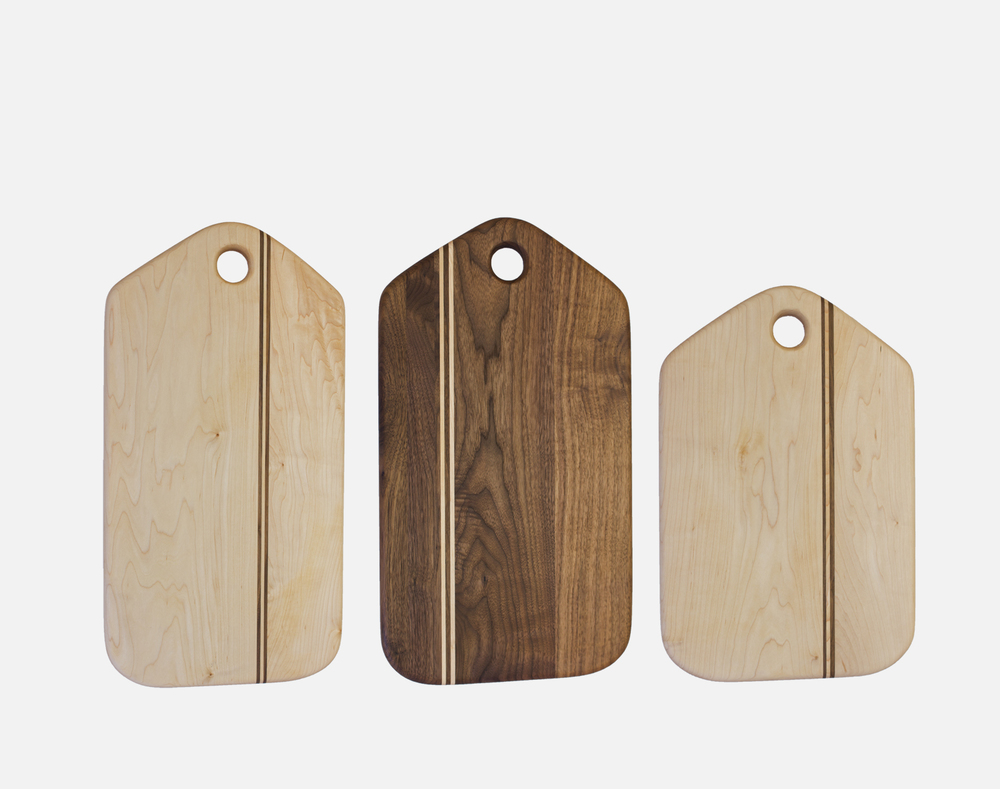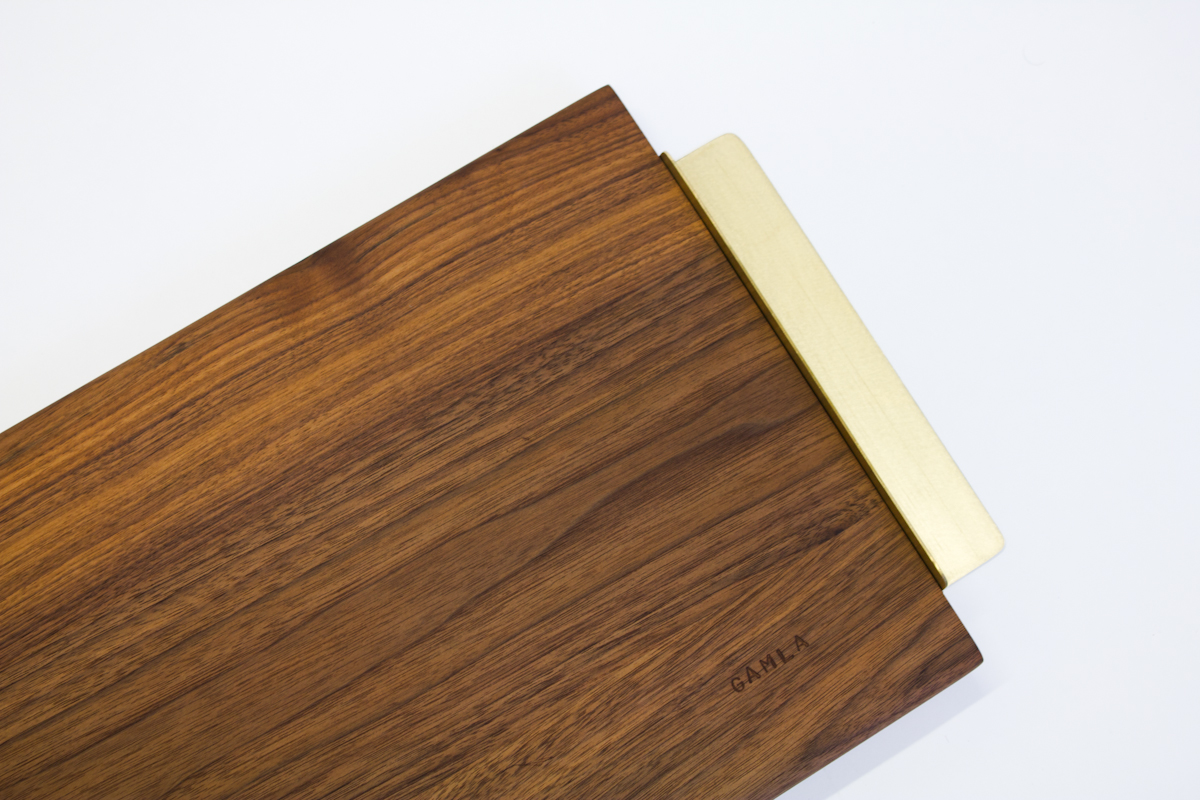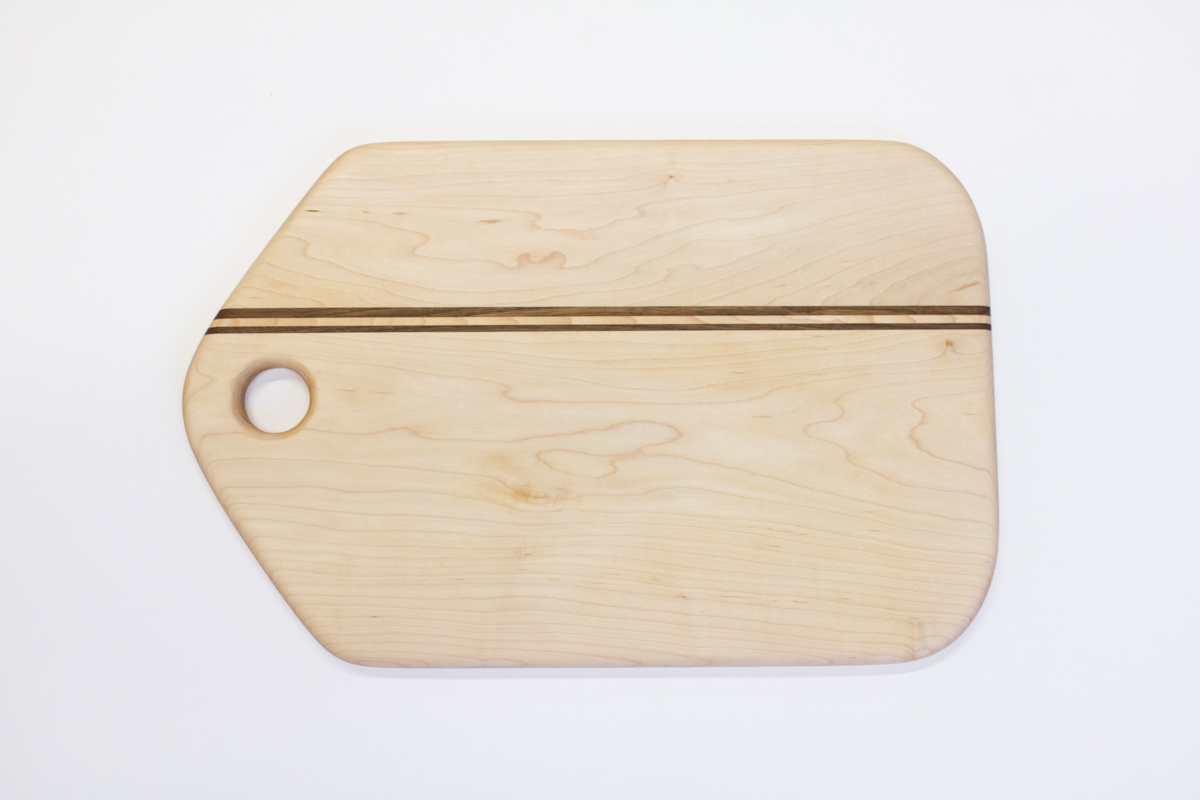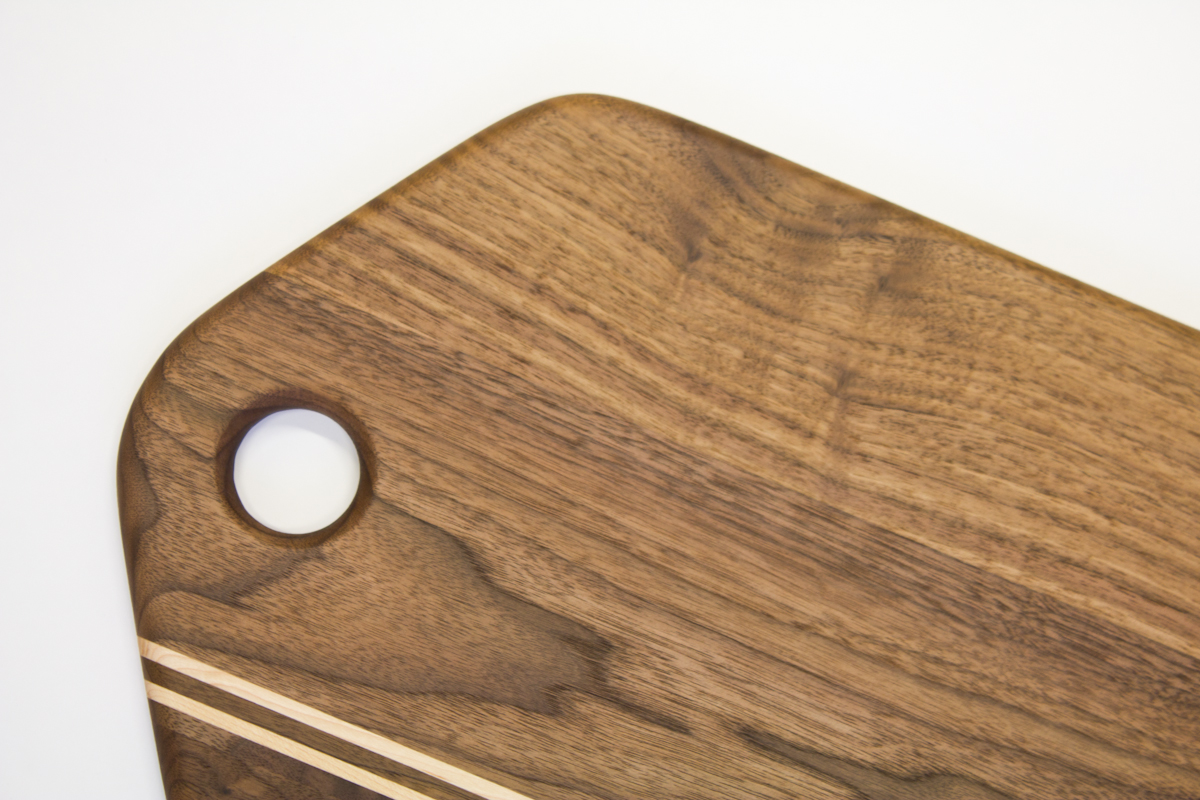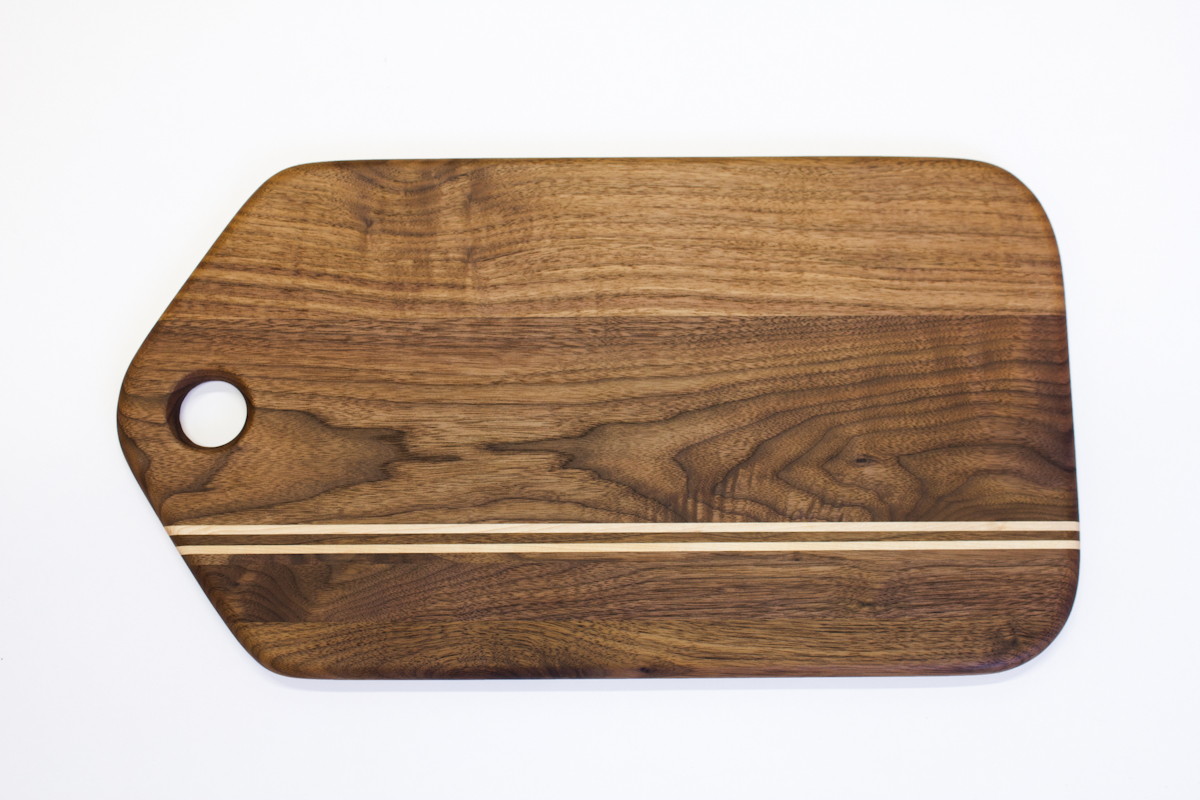 Simple, sturdy and elegant. All of our cutting blocks and serving trays are handcrafted from sustainably harvested walnut or eastern maple, making them an ideal addition to any kitchen for cutting and serving. All kitchen boards are finished with a blend of 100% natural, food safe oils and beeswax.